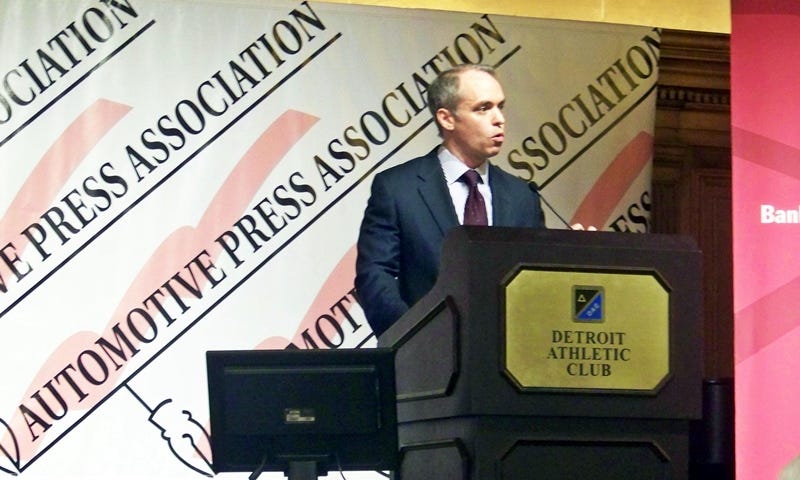 For much of the decade following 9-11, and GM's "zero-percent solution," many car buyers scored huge discounts on new cars (if they weren't too picky about what they bought). When I bought a 2003 Mazda Protege5 back in November 2003, I paid $13,400 for a car with a $19,000 MSRP. Well, if John Murphy of Merrill Lynch is correct, such deals will be far less common for the foreseeable future.
John Murphy conducts Merrill's "Car Wars" study, which has been performed every year since 1991. This study measures the competitiveness of car makers' product plans largely based on how frequently car lines will be updated. It then forecasts market share (and ultimately profitability and stock prices) based on this competitiveness.
The 2014 study, released today at the Detroit-based Automotive Press Association, predicts few significant changes in market share over the next four years. The reason: car manufacturers learned from their past mistakes, and won't be repeating them. In the past, the Detroit 3 failed to keep their products fresh and competitive, and partly for this reason ended up with far too much manufacturing capacity. GM, Ford, and Chrysler then boosted incentives higher and higher in an increasingly futile attempt to fill their under-utilized factories. This forced even relatively healthy auto makers to follow suit, netting great deals for car buyers.
Following the 2009 bail-outs and related "rationalizations" of manufacturing capacity, the Detroit 3 no longer have under-utilized factories. And they've been investing much more in keeping their product lines current. For these reasons, "the market share shifts of the past few decades [with Detroit losing and just about everyone else gaining] are largely over."
With such stability, no significant player will have to pile on the incentives to maintain their market share, and in so doing upset everyone's apple carts. Merrill Lynch focuses on the impact on profits and stock prices. But, as I see it, car buyers will also be affected. They can expect better, more frequently updated cars, but also fewer great deals on them.

Murphy also had a bit to say about the types of cars people will be buying. He foresees a lot of potential for B-segment crossovers like the Chevrolet Trax, Buick Encore, and Honda HR-V. But [speaking to a room full of auto writers] "we're all well-aware that the consumer doesn't really want to buy or drive a small vehicle," and technological innovation has been reducing the fuel economy disadvantage of larger vehicles to the point that size won't have nearly as much of an impact. He was especially bullish on the new all-aluminum Ford F-150. If this prediction is correct, perhaps those of us who actually prefer relatively small cars will still be able to score some great deals on them.


Michael operates truedelta.com, which gathers and shares information from car owners on reliability, real-world fuel economy, and why (not) to buy the one they did.