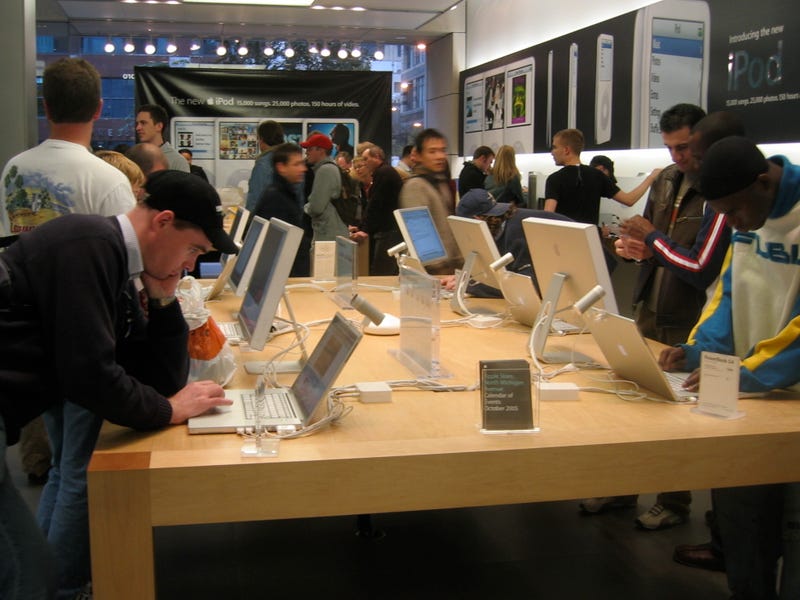 When's the last time you visited a car dealer just to check out what was new?
A number of car manufacturers claim they want to create a customer experience more like that in an Apple Store. The typical Apple Store (photo by redjar, from Wikipedia Commons) is full of people trying out the latest phones and pads. Salespeople walk around, providing demonstrations and answering questions.
In pursuit of a consistent and desirable brand image, most auto makers have all but forced their dealers to perform extensive—and expensive—renovations. But even after the hundreds of millions spent on updates, the typical car dealership is…full of desks. You'll find a few cars on the floor, and perhaps some attractive décor. Nevertheless, the great majority of showrooms look like places people work, negotiate, and sign contracts. They don't look like places people play, even when decorated with balloons:
Given this environment, it should come as no surprise that many people prefer to check out the latest cars and automotive features on the Internet, and then only when they need a new car. The dealers I spoke with confirmed that most people these days enter the dealership with a specific car in mind. Few browse. Hardly anyone comes in search of fun.
Does it have to be this way? Are cars so different from phones and tablets? Maybe not. A small number of car dealerships are different. Walk into a Tesla store, and you'll find a bare chassis in the middle of the floor and visually striking, interesting, and informative displays along the walls. Even bereft of balloons, a Tesla showroom looks like a much more fun place to visit than your typical car dealer.
To be fair, the Tesla dealership I visited had about as many people indulging their curiosity as the typical car dealership. The ambiance and content resembled those of an Apple store. The quantity and behavior of the potential customers inside did not.
Three possible explanations come to mind. Few people see the Model S as something they might buy because of how much it costs. Or people have no interest in visiting a dealer to check out the latest cars and features. Or they're just so used to what the typical dealer is like that they cannot imagine a radically different one.
Car salespeople would have to be part of any change. Nearly all of them are commissioned. If showrooms were full of people playing around with cars and displays, their time might seem wasted and their income negatively impacted, at least in the short term. They don't get paid to demonstrate the products and answer questions. But they could be. Even without such a change, car salespeople could find that people who enjoy visiting a car dealership are more likely to buy from that car dealership, so that in the long term time spent indulging non-buyers would not be wasted. Even today many of the car salespeople I encounter—including the ones who seem most successful—have such a perspective. High pressure tactics have been out of fashion for some time, especially among the premium brands. Car buyer perceptions of dealerships don't yet fully reflect this shift. The desks noted earlier don't help.
The implications extend far beyond the most efficient and effective way to sell cars. People throughout the auto industry have been wondering why fewer and fewer young people perceive cars as more than appliances, as interesting and fun. Could creating spaces that present cars as full of interesting new technology and as objects to play with help reverse this trend?
Michael operates truedelta.com, which gathers and shares information from car owners on reliability, real-world fuel economy, and why (not) to buy the one they did.